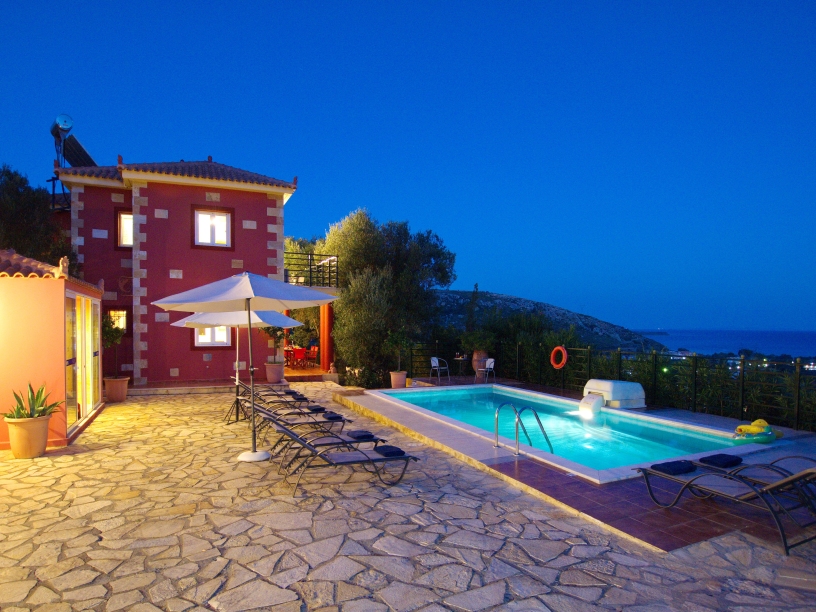 Villa Aliona, built in the midst of a grove of huge olive trees, is centrally located in one of Katelios' highest points offering panoramic and unhindered views to Lower Katelios and the sea. The villa has a total area of 215 sq. m. spread over two floors.
The ground floor has an area of 115 sq. m. and consists of the living room, sitting room, the kitchen and a bathroom. An internal staircase leads to the upper floor which has four bedrooms, each with its own bathroom.
The serenity and the magnificent natural surroundings offering incredible view are the superior advantages of this villa which features exceptional architectural aesthetics including stone facades, spacious balcony on the upper floor, poolside pergolas, and slate paved grounds.
There's a discreet small dwelling of 30 sq. m. on the grounds for the housing of hired personnel. The grounds are everywhere lush and green as they have been planted with dozens of bushes, shrubs, and flowers.
The décor and furniture in every room of the villa is of high aesthetics functionality, assuring pleasant and comfortable living. The distance to the sea is approximately 800 m., or a two minute drive. Argostoli and the airport are about 30 minutes away, while cosmopolitan Skala is only a 15 minute drive away. Some of the island's best beaches, such as Kaminia, Katelios, and Koroni, are very close by.
The seafood taverns lining the shoreline of Lower Katelios are among the best on the island. Aliona and our company's other villas are among the island's most in-demand deluxe properties for rental.
The quality of our work and the villa location provide the ultimate guaranty for any interested party.
Download the Presentation http://www.visitkefalonia.gr/VILLAALIONARENTAL.pptx