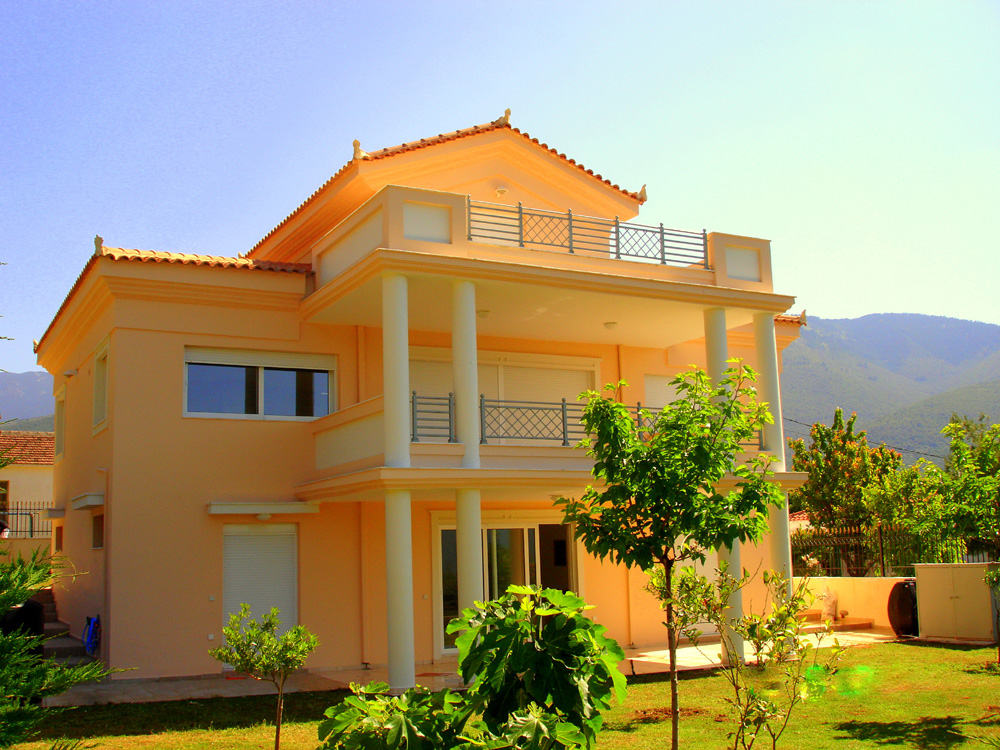 Villa Angelica – a property of 230 sq. m. – is located in the settlement of Zervata, only 5 minutes away from the port of the pretty town of Sami, in the shadow of densely wooded mountains and in the vicinity of some of Kefalonia's most popular tourist sights such as Cave Lake Melissani, Drogarati Cave, Karavomylos, Aghia Efimia, etc.
Surrounded by traditional homes, perennial trees, and running waters, the villa is constructed on three levels. The lower level has two large bedrooms with WC and a living room with view to the garden. This level is independent and this makes it appropriate for use as a separate dwelling for guests or children.
The middle level is the main dwelling with two bedrooms, two WCs, kitchen, and living room. The main entrance and veranda are roofed. An internal staircase leads to the top level where there is an additional bedroom with WC and a veranda overlooking the settlement.
A swimming pool may be constructed by our company in the villa premises, according to the client's specifications and requirements.
In the town of Sami there are many super markets, shops, restaurants, as well as a pharmacy, a police station and a port authority station.
Sami is Kefalonia's main port, connecting the island to the port of Patra on the mainland.
Zervata is only 25 minutes away from Argostoli, 10 minutes from Aghia Efimia, and about 30 minutes from Myrtos Beach.
The villa has central oil heating, air conditioning in all areas, and an alarm system.
For additional information please contact us through our e-mail address divacasa@hol.gr. We would be happy to answer all your questions.
Download the Presentation http://www.visitkefalonia.gr/VILLAANGELICA.pptx